We want God to be fair, don't we? When we do something good, we want Him to recognize and reward us.
But, God's not fair . . . not by our human reasoning.
Paul and Silas were faithfully preaching the Gospel but, what happened to them? Beaten until their back bled and then were put in stocks to spend the night in excruciating pain. Not fair.
Stephen is singled out for ministry to the early Church because he was full of the Spirit and of wisdom. He boldly proclaims the truth of the Messiah, Jesus Christ. And what does he get for his boldness and faithfulness? He is stoned for it, and killed. Not fair.
Our flesh wants to scream it sometimes: NOT FAIR!
This is how how my flesh was tempted to respond when I first read Jennifer Ebenhack's newly-released memoir – a true story of her and her husband's hopeful idealism, obediently answering God's call to Haiti to adopt children only to collide for eight years with excruciating trials that to the human understanding will never make sense.
Setbacks, betrayals, money stolen, and then, the criminals – breaking into the Ebenhack's compound at night, Jennifer coming face to face with a woman's worst fear and her husband armed with only a bat, pepper spray, and a can of gasoline.  Resources completely exhausted, eight years of paying and trying and still government officials prevent them from adopting. All they came to do was love the children. And, then the massive earthquake that devastated the country and sent everything into further chaos, sweeping Jennifer and her family along with it.
Faithful missionaries who want to care for children.
Really God?
How could You do this to them?
It's just not . . . fair.
But, God's ways and thoughts are far above our own.
When will God move and glorify Himself in this sweltering, sun-scorched land?
Check out Jennifer's new book . . .
In a Sun-Scorched Land: A memoir of adoption, faith, and the moving of Haiti's mountains
This is a gripping, true story that takes Jennifer to the very end of her capacity as a wife, as a mother, as a missionary . . . the very place that God does His best, most miraculous work. He specializes in redeeming the worst things we face.
Faith and hope – that's the journey God takes us on if we keep our eyes on Him in the darkest times and places. And this is why Jennifer's story is so powerful – and so good for you and me. God is a redeemer. He gives hope, even in the worst trial, even in the darkest night of a sun-scorched land.
And, where are those beautiful kids that all Hell mobilized to prevent from being adopted into a loving family?
This is an awesome book. Get your copy and be amazed at the God Who carries us through the nightmare of our trials and really does do miracles today.
In a Sun-Scorched Land: A memoir of adoption, faith, and the moving of Haiti's mountains by Jennifer Ebenhack
 An Excerpt . . . 
How Will This End?
March 6, 2006
Cape Haitian, Haiti
Jesus, help. It was the most eloquent prayer I could manage.
"Jen!" Jarod whispered. "I'm going to wake Sarah!"
Fear had been no stranger the past four years in Haiti, but this . . . this was terror. A gang of criminals had scaled the wall and dropped into our backyard. A thousand desperate thoughts flooded into my head. I'd professed faith for over two decades, but this night moved trust past theory, past churchy conversations.
I changed out of my pajamas while Jarod raced down the tiled stairs to our intern's apartment. Moments later, Sarah scrambled up the stairs, followed by Jarod, who toted a five-gallon jug of gasoline he'd snatched from the porch.
Jarod padlocked and dead-bolted the metal door between the stairs and our entryway.
"What about the kids? Should I bring them to our room?" I was trembling, longing to gather and protect my brood—the five munchkins I'd been exasperated with only a few hours before.
"I don't think we should." Jarod kept his voice low. His steadiness surprised me. "Better for them to sleep and know nothing."
You can read the rest by clicking the download below:
In A Sun-Scorched Land
Paperback: 306 pages
Publisher: Loyal Arts Media (September 12, 2015)
Author: Jennifer Ebenhack
Jennifer Ebenhack knows what it is to be broken down by circumstances. She and her husband Jarod had no idea their decision to adopt twins from Haiti would turn into eight years of life in that literal sun-scorched land. While those years of ministry involved joys and sorrows, life-threatening dangers and divine interventions, none of those years included any progress on their children's adoptions.
But God saw it all. The exhaustion, anxiety, and especially the disintegration of all human hope in the wake of the 2010 Port-au-Prince earthquake.
In a Sun-Scorched Land is a story of dead-ends turned to miracles; of desperation turned to peace. Though your story may differ, this is the story of all our lives: reaching the end of ourselves to find that God alone is our hope and the mover of mountains.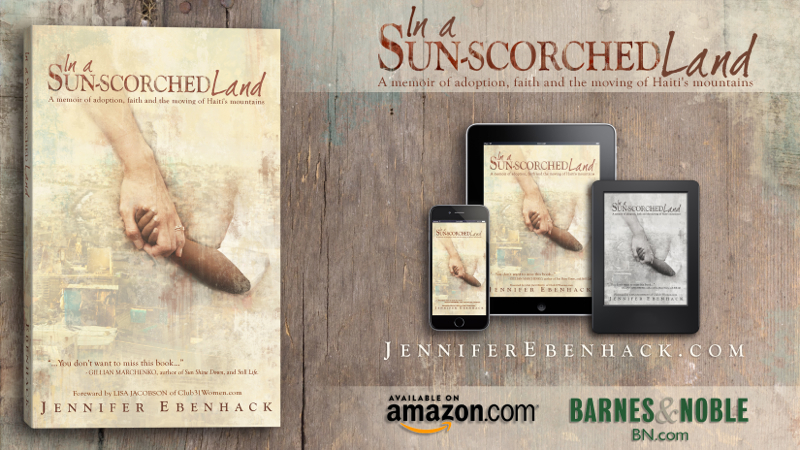 Now available for purchase in both paperback and in digital form:

Positive, Encouraging and sometimes Challenging teaching for marriages and families desiring to break free from lukewarm Christianity. Subscribe Today!